Z 104.5!
Hot Rocking Z 104.5, Tulsa's Ten in a Row Station!
This page is dedicated to one of the last, and certainly one of the best Rock-40 stations. Thank you Mel, Wavey Davey, Bannana, and the rest of the Z gang for the great radio!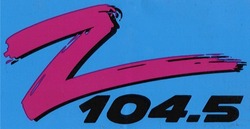 AIRCHECKS! Click to listen!

KMYZ AIRCHECKS AND JINGLES
WARNING! Large files below! Right click and save to your local hard drive first. It will take quite some time to download.